BAY-VIEW GLASS & MIRROR
Euro Style, Barrier Free Showers that Keep Pace with You and Your Family
Find the full article and magazine at the following link:  Windsor Life Magazine 03-18-2016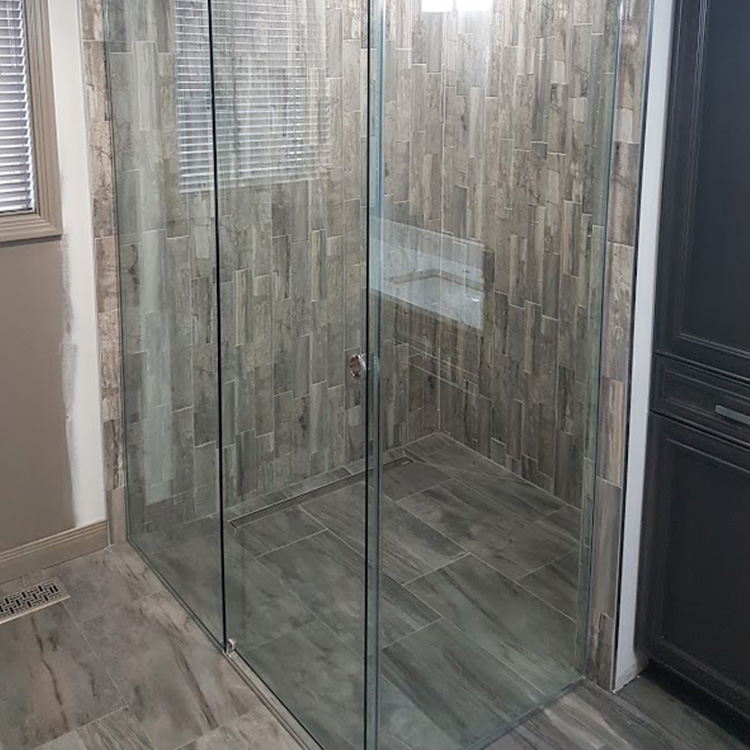 The house or condo you love can transition into your forever home with the installation of a stylish, custom bathroom shower equipped with features that support your security and self-reliance. "When you experience physical limitations due to injury, disability or aging, being able to shower safely is important to your dignity and independence," notes Eric LaMarre of Bay-View Glass & Mirror.
Listening to the concerns of older homeowners, Eric recently designed and installed several barrier free accessible showers. "This shower replaces an old bathtub or is built any size in a new or renovated bathroom. Like our Euro style Serenity Series, it has large glass panels and sliding glass doors. There is no curb, enabling people with mobility issues to enter easily with their walkers, wheelchairs or shower seats."
Sturdy supports are strategically integrated into the shower. The design of the high-end hardware is so seamless it's hard to tell a grab bar from a towel bar.  "The chrome, brushed nickel or other finishes are matched to the shower heads and faucet," Eric explains. "Everything functions well and looks fantastic."
The shower's sliding glass door moves quietly on roller bearings. Bay-View Glass & Mirror's own unique roller system operates above the header support bar that spans the top of the glass shower enclosure. Another attractive option is barn door style hardware mounted overhead. Without a curb at the shower's base, it's simple for small children to step right in and splash around. "With a rain shower head and programmable side shower jets, the family shower becomes a child's personal splash pad.
Parents can see what is going on through the full glass doors or join in the fun," Eric says. Homeowners are calling in Bay-View Glass & Mirror to install custom barrier free accessible showers in their guest bathrooms. "When aging or disabled relatives stay overnight, everyone has peace of mind, knowing the shower discreetly offers safety features," says Eric.
An existing bathroom is instantly updated with the sleek, sexy Euro style shower. After the old tub has been removed and tile laid, the Bay-View Glass & Mirror team can install a 60" wide shower. The glass door rolls to the side to reveal 30" of barrier free access – enough for a wheelchair to enter. For someone with a walker or who simply wants to rest while taking a steamy shower, a seat formed of tile or marble slabs can be built into the shower. The shower walls may be clad in tile, stone or Bay-View Glass & Mirror's custom back-painted glass. Available in opaque translucent, metallic and pearl finishes in custom colour matches, the glass's back is covered in a special paint finish. "The water resistant glass surface is a snap to wipe clean," Eric says. "We also fabricate custom back-painted glass for counter backsplashes, wall panels, tub surrounds, tabletops, fireplace feature walls, erasable board walls and store fixtures. We're the only company that does this."
Another specialty of Bay-View Glass & Mirror is the TAPERLOC ® Dry Glazed Railing System. Engineered to support sturdy continuous panels of 1/2" tempered glass without requiring support posts or a top rail, TAPER-LOC® provides a clear, protective shield for a balcony or staircase, indoors or out. "You get security while preserving the view," Eric says.
Taking Bay-View Glass & Mirrors' customers beyond the ordinary for 29 years, founder Al LaMarre, his son Eric and their team are eager to elevate your home's style and function.